Events ]
Pictures, videos and audio
Revolutionary Propaganda Show - a special, extremely political DJ/VJ/Live/Remix set.
The 1st Space conclusional launch incidental audience participation

An audible release (site-specific audio installation, visuals and you)
The Xapi Zapi will go off.

This Saturday at "
Nolita House"
_47E.Houston_b/t_Mott_n_Mullberry_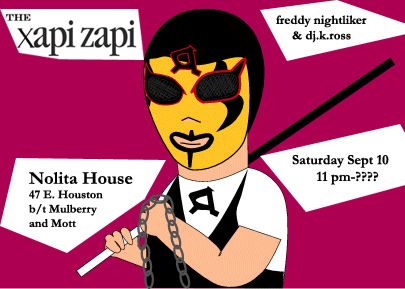 modul8 demo at Apple Store Soho
Storytelling meets the sampling culture. Live VJ and DJ action blends with a stream of remixed movie stills to create a universe of runaway nanobots, psychic anarchists, and frustrated cyborgs. Sixty minutes of startling video, sharp narration, and drivin
Check Share.nyc's new basic page at NYFA(our fiscal sponsor for not-for-profit)'s new "Artspire" site! (3 short video clips, several or so old & new photos are there...)
I have access to your database. No harm was done. Not yet.
The new interactive Share website is now in private beta to people on the sharetech list, and possibly others. Please use the comments to point out bugs and to use the site. Thanks.
Saturday, July 24th, 10:00 pm
People's Improv Theater
1/2 hour + 6 actors + 3 shooters = 1 improvised movie
Here are some belated pictures from last year's ANYWARE event...http://homepage.mac.com/ecume/anyware1.htmlhttp://homepage.mac.com/ecume/anyware2.html